If you want to participate in the Black Friday brick and mortar festivities while avoiding the malls and the big retailers with the heavy foot traffic and impossible parking, I give you a near-free alternative. At Rite Aid B&M stores, using the Plenti Rewards membership (free to sign-up for), they are bringing back their free earbuds promotion.
This turned out to be long-winded post, more after the break…
If you are not familiar with it, it goes like this: you pay $6 (plus sales tax if collected) on one pair of Magnavox earbuds (they used to do this with Philips, but the brands are related). You receive 600 Plenti rewards points. You can use these starting with the next morning at participating retailers such as Rite Aid, Exxon-Mobil, Macy's and such. The sales tax is not given back, that's why I'm saying "near free".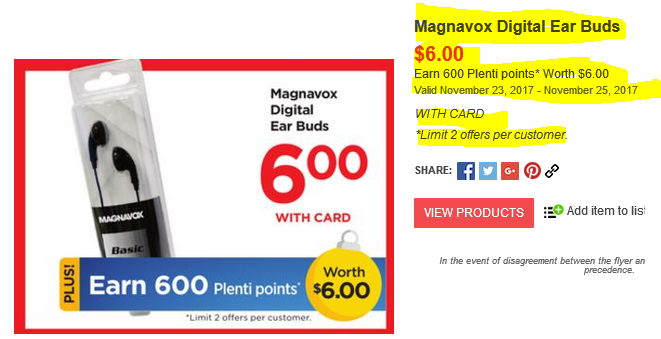 You can use these as throwaways or giveaways to friends and relatives who break, ruin or lose everything, or drop them off in gift donation boxes (it's better for them to have more toys than kids needing to find gifts for).
You can buy two of these with this promotion. I've done it in previous years, it works like a charm. Just remember you must show your Plenti rewards card (or enter your phone number) when you pay at the register.
The offer runs from Thursday store-opening (11/23/17) until Saturday close of business (11/25/17), so you don't have to be there on the actual Black Friday.
PS: if you live in a state that does not collect sales tax, then these are free, not near-free 🙂
SPOTIFY GIFT CARD
Also running there is a Plenti promotion for Spotify gift cards. You buy a $25 gift card and get 500 Plenti points, that's $5 to use in future purchases at Plenti retailers (Rite Aid, Macy's, Exxon, etc). This too is a limit two per customer offer and runs for the same three days. That's a virtual 20% discount assuming you'll have no problem spending the 500 Plenti points on things you need/want (if all else fails, gas refill or convenience store at Exxon-Mobil).