For a limited time only (expiration date is not mention), you will automatically [no coupon needed, no additional action on your behalf] receive a FREE NuForce Stride bluetooth earphone with the purchase of the new condition open-back over-ear Sennheiser HD 6XX headphones for $195 with free US shipping and free US returns from the Massdrop website. This is an "in-stock drop" so it will ship in one business day after purchase, it won't take weeks and weeks like the traditional Massdrop offerings…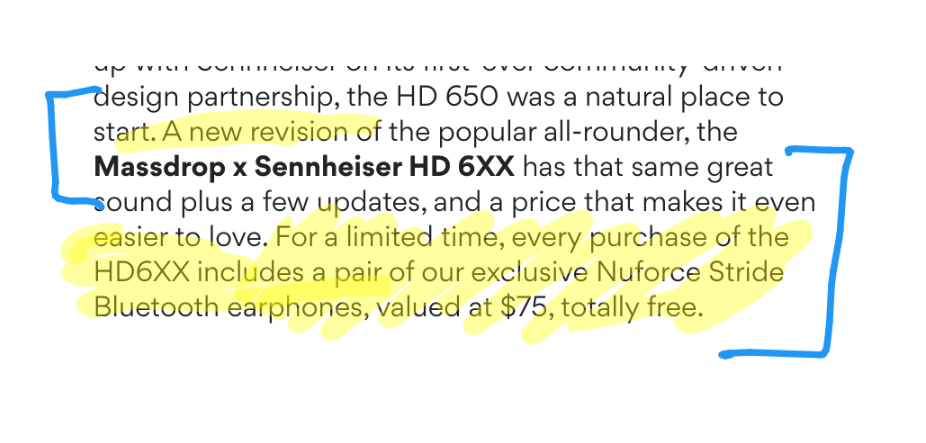 To ensure the offer is running, use your browser's in-page search feature (eg CTRL F in Chrome) looking for "NuForce" or "Stride". You will see this promotion mentioned multiple times in the listing. Even though it does not appear "above the fold" (on the part of the page that fills up some screens, eg laptops).
The HD 6XX come with a 2-year manufacturer warranty since they are produced in co-operation with Hennheiser 🙂 The NuForce kit includes a hard case and six sets of eartips and a microUSB cable. No mention of warranty on the NuForce.
When you click the "BUY" button that takes you to the shopping cart, you will not see the NuForce mentioned there. The options you see in the shopping cart are for additional optional purchases (extra earpads, cables, DAC/amp, warranty) and a shipping upgrade option. Most of the optional items are offered with an additional combined purchase discount, eg the Drop+ THX AAA 789 linear amplifier is +$300 instead of $400 which sells on its own.
NOTE that this is the recently revised HD 6XX. Check the Massdrop and the interwebs for more details if you are not already familiar with the revisions…