Google Play does not offer discounts on their All Access monthly music subscription service once your free trial ends, however, there is a way to get a discount on a regular basis if you take an additional step: buy Google Play gift cards at a discount.
Once upon a time it was hard to find Google PLAY gift cards at a discount but these days both Rite Aid and Walgreens are including them in their virtual 20% off promotions. For this week, good until the close of business on Saturday 6/24/17 at Rite Aid brick and mortar stores, you can get $5 back in Plenti rewards points when you purchase a $25 GooglePLAY gift card. Limit two per customer. You pay full price, but you get $5 to spend in future purchases (but not gift cards) at Rite Aid and other participating retailers (Macy's, Exxon gas stations, etc).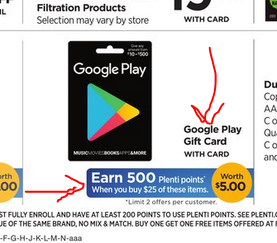 So how exactly does that get you a discount on the music subscription service? Simple! Once you load up the gift card to your Google Play account, you can go to your Account settings and have your monthly music subscription get paid by your gift card balance. Once that is depleted, it will switch back to your default credit card. Or if you keep reloading gift cards, it will keep using the gift cards.
I've been doing this for many months now, and it works just like clockwork!
When you consider that YouTube RED is included with the Music subscription, that's a good value. YouTube RED includes access to the YouTube Music app that allows you to play in the background, play audio-only videos, and of course avoid all ads!